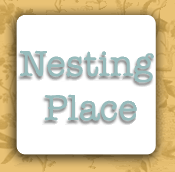 Have you been over to the Nester's blog,
Nesting Place
? Love her blog, love her sense of humor, love her style, love her. Anyway, she has this saying, "It doesn't have to be perfect to be beautiful" & her posts convey just that. Her home is so beautful. She has many pictures of the beautiful rooms & the fabulous decorating in her home. And then you scroll down to see a picture of her son playing on their dining room table & in another picture it looks like the curtains are falling down. She is a real mom, with real kids and a real home...like me.
Anywho, she is hosting a blog party this week so that we can share our imperfectly beautiful homes & I couldn't resist the invitation.
This is my bedroom. What?, you say, that looks like an office. But, alas, I have no such available room in my house for an office.
I needed a place for all of my crafting, computer, office type stuff so I set up a folding table & wah lah...a desk...in my bedroom. Oh well. The day I took this picture my desk was cleaner than usual. Don't you just love the big old copier/printer on top of my beautiful basket to the left of the desk? Lovely.
See the yellow chair next to mine? That is Boo's chair. She's my adorable little two year old girl who loves to be wherever I am...especially when her three siblings are all at school. She pulls her little yellow chair up to my desk & plays with her toys. Can you see them?
One day I needed to work on the computer for a while so I brought in Boo's little dollhouse to play with so she could be with me & have something to do.
8 months later and it's still there. I think it's a permanant ficture in my room now. But, I love it when I'm working at my desk & I hear her playing...making her little people talk to each other. Imperfect room...Beautiful moments.
So, since there are so many imperfect places in my home, I will post another room later this week. I would love it if you would join the party. You can click on the Nesting Place button in this post or the one on my sidebar to join the fun. Come on, you know you want to.